Objectives of the Residency:
The resident will develop a high degree of efficiency in the provision of primary eye and vision care services, particularly in the area of pediatrics, child development, vision therapy, and vision rehabilitation, for head trauma and stroke.
The resident's expertise in the diagnosis and management of refractive, physiologic, and pathologic conditions of the eye, the adnexa, visual pathways, and the central nervous system will be enhanced.
The resident will utilize a wide variety of diagnostic procedures and instrumentation while caring for patients.
The resident will acquire additional knowledge in the diagnosis, management, and co-management of systemic diseases with particular emphasis on those with significant ocular manifestations such as trauma, stroke, hypertension, and diabetes.
The resident will develop and present original presentations to other healthcare professionals and engage in scholarly activity.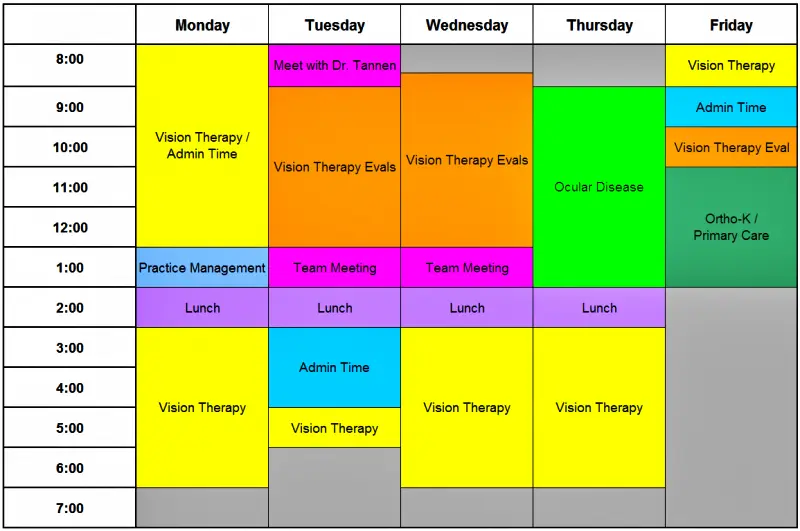 Daily Activities and Tasks:
Vision Therapy Evaluation and Therapy for accommodative, binocular, and oculomotor vision dysfunctions as well as strabismus and amblyopia.
Vision Perception/Processing Evaluation and Therapy
Neuro-Optometric Evaluation and Therapy for stroke and acquired brain injury.
Evaluation and management for patients with developmental disabilities and autism spectrum disorders.
Diagnosis and management of sports-related concussions
Diagnosis and Management of Ocular Disease and Primary Care Optometry